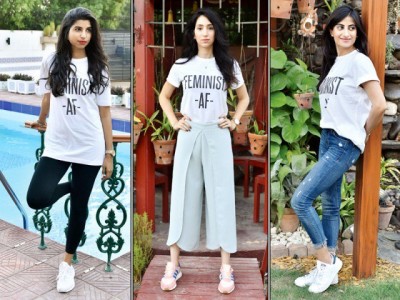 While the trends keep on changing, style remains eternal and one piece could be wear in many different ways. In this 3 fashionista are going to show us how to put together an item from designer's collection, according to your own taste and style.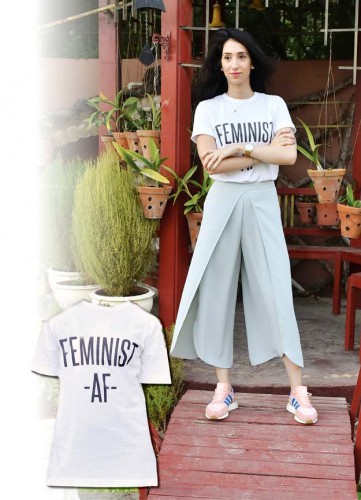 This super cool tee shirt by hef clothing is one of our wish list! It is made up of 100% cotton; the cloth is light weighted and is perfect for the summer month.
Mahwash Bhimjee
I like the slogan tees and I m in love with this tee by hef clothing. The message is amazing and the tee itself is super cool. I wear this tee with black tights and white Nike runners and added bright red pout to add some color to the look. I kept my hair in natural waves and in this look love to go to the beach or casually around the city.
Iffat Ibrahim
I wanted to keep my look casual so I wear this tee with the blue jeans and white addidas kicks. I think that this tee is best for a hot day in the city. I kept my accessories to the minimum and would wear this outfit to the beach or for a casual day out.
Nicki Mossavvarrahmani
This tee by hef is super cool and I loved wearing this tee with the quirky pants. I opted to pair the tee with the blue lowers to add some color to my looks with some bright addidas runners. The tee is perfect for the Karachi hot weather.
One Piece Three Ways Hef Clothing Related at Fashion Trends