Trends will come and go while styles remain permanent and you can use single piece to be used in several ways. In this post, we will told the ideas of three fashionists who will use a piece from designers' collection according to their own style.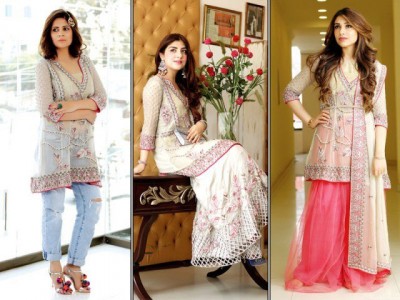 This embellished shirt is taken from "Fluer Enchantee", the collection from Hajra Hayat. It is a pure chiffon fabric with smokey grey color that is embellished with crystals and pearls. Between the motifs, there was fine calligraphy that was looking marvelous. Several letters from Urdu language were evident from the design if you have a closer look.
Myda Malik
She told she would like to pair this beautiful shirt with sharara pants at daytime. She would also like to use traditional jhumkas, her wedding ring, 'Hangisi' pumps and a silver clutch with the dress. The style will be completed with a huge blowout hairstyle. This would make a perfect dress for a daytime wedding occasion.
Amna Niazi
She likes a minimal style. She like to mix the things like wearing skirt with a sherwani. After wearing this Hajra Hayat's shirt, it felt like kurta which is suitable to be paired with boyfriend jeans. In order to produce unconventional effect, she would like to use a gold and a pearl teeka on one side while an individual touch can be achieved by wearing 'Layla Pom-Pom' sandals. Her jewelry (teeka and ring) is from famous Hamna Amir. She would prefer messy waves as she has bob haircut. This outfit is suitable to be used on annual dinner, a formal event or a pre-wedding.
Mishal Javed
Owner, Makeup Shack by M
She likes a flexible style. She mixes various pieces according to her mood. The shirt from Hajra Hyat has its own unique style which she wants to maintain foe which she would like to pair it with a plain net sharara. Liveliness in the outfit can be achieved by fastening the dupatta. On the makeup front, she would like to use smokey eyes, highlighter on her cheeks and light purple lipstick. She would like to have large and wavy hairstyle. The best occasion for this outfit is mehndi or sangeet.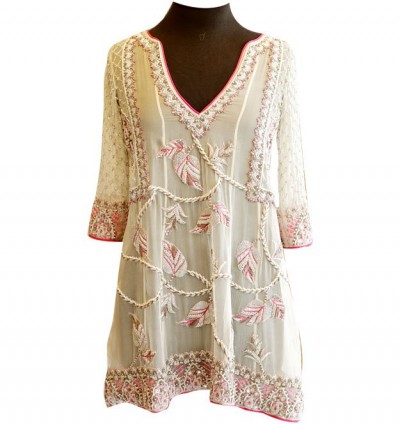 One piece three ways Hajra Hayat Related at Fashion Trends