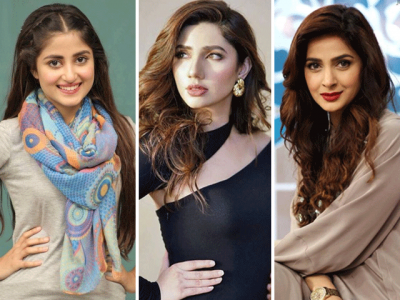 The year 2017 has proved successful not only for Pakistan but also for the Pakistani actresses, who performed in various Indian movies. Various leading Pakistani artists like Saba Qamar, Mahira Khan nd Sajjal Ali have performed well in the Bollywood film industry and they got the tremendous success.
Bollywood is the international film industry and various artists work in this film industry and they get international reputation. Various Pakistani artists perform in this film industry to put forward their career. Most of the Pakistani artists show their performance in Pakistani industry and they try to work in the Indian movies. Various Pakistani artists performed in the Indian film industry but they could not get so much success. In these artists, the artists like Meera, Moamer Rana, Humayun Saeed and Humaima Malik. But the year 2017 proved to be good for the Pakistani artists. Various Pakistani actresses worked in the Indian movies and they got tremendous popularity than various other Pakistani actresses.
Mahira Khan
If you talk about the most successful actress of Bollywood during 2017, then we find the name of leading Pakistani artist, Mahira Khan. She had done the debut in the Indian film industry with the Bollywood king, Shah Rukh Khan in the movie, 'Raees' and she gained the popularity around the globe.
After the release of the movie, 'Raees' the tales of the beauty and acting of Mahira Khan were continued in Bollywood and Indian media. Most of the people liked the couple of Mahira Khan with Shah Rukh Khan except the Indian old actresses. It will not be wrong if you say that she has left all other actresses behind her through her very first movie.
Saba Qamar
There is another very capable Pakistani actress, Saba Qamar after Mahira Khan and she has done the debut in the Bollywood through her movie, 'Hindi Medium' with the actor, Irfan Khan. The best performance of Saba Qamar in this movie compelled the Indians to praise her acting. The topic of the double standard of education is discussed in this movie. She has done her role beautifully and she has acknowledged her performance in the bollywood during 2017 after Mahira Khan.
Sajjal Ali
Sajjal Ali is well known with her wonderful performance and also for her beautiful eyes and charming face and she is declared the third best actress of the Indian film industry this year. She has done the performance with the Indian leading actress, Siri Devi in the movie, 'Mom' and she won the hearts of the Indian viewers. The Indian analysts appreciated her serious acting in the movie and some of the Indians compared her beauty with Kareena Kapoor.
Pak Actresses in Bollywood 2017 Related at Fashion Trends