Diya Ali is the popular and talented model and actress and she has proved her capabilities in these fields. She said that Pakistani girls have the talents and they should participate in the global beauty contests in order to promote the positive and soft image of Pakistan. She is going to participate in the 'Model of the Year' contest, which is being managed in Dubai.
Diya Ali gave an interview to media and said that there are about 50 countries of the world, which are participating in the beauty contest, which is going to be organized during March this year. She further added that she is going to attend the Miss World contest, which will be conducted in Belgium.
Diya Ali said that she is the only Pakistani celebrity, which has been crowned as 'Miss Perpetual' at Miss Asia Pacific International 2016 contest, which was conducted in Philippines in November last year. She said that she worked hard and put lot of effort to get the title of Model of the Year. Pakistani girls need to come forward so that they can become the international fashion pageants so that they can promote the soft and positive image of the country.
She talked about her experience to participate in Miss Asia Pacific International contest and Diya Ali said that it was very challenging for her being the first Pakistani girl to be selected as the contestant in the popular and old beauty pageant and it was her great achievement. She further added that the beauty pageant was the big platform and they provided the chance to the girls to be empowered and create confidence in them. They can also create opportunities for the women to discover the potential in the girls.
When she was asked about the qualities, which might have for the contestants of Miss Asia Pacific, she responded that model should be well educated and the confident women can be compassionate, fearless and expressive. She also claimed that she stepped into the film world through signing a project with Sohail-Sonia Productions and this movie would be shot abroad and under the Indian J production.
She also said that she started her entertaining career as host in the morning show, 'Good Morning Manchester, on Manchester Digital TV. Diya Ali attained the MBA degree in marketing and she has started acting in TV dramas like 'Bay Daro Dewar Ghar, Moor Mahal and Haya ka Daman and new drama, Shehr-e-Naz is being broadcast these days.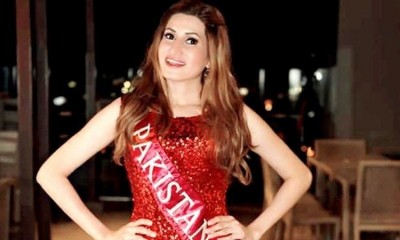 Pakistani Model Diya Ali nominated to Miss World Titles Related at Fashion Trends