The 8th Beirut International Awards Festival was attended by Pakistani star Mahira Khan during which she was awarded for 'International Recognition' and also for having 'Best Dressed' for the night.
She was looking marvelous by having a backless ivory couture gown of Nicolas Jebran. The actress was having glowy makeup and minimla jewelry while her hairs were one side.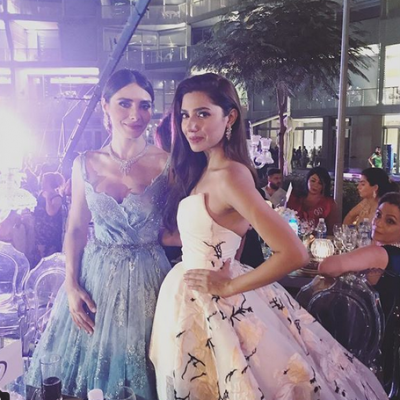 The 'Beirut International Awards Festival' posted a video on Instagram with title of 'Best Dressed' in which the actress was shown walking down the red carpet. The 'Best Dressed' celebrity was chosen by a fashion panel that comprise makeup artist Noha Mouawad, Tony Salame of fashion house La Bourjoise, Cedric Haddad of Tufenkjian Jewelry and Boudi Dib of Su Misura.

The star was styled by Maneka Harisinghani whiel her jewelry was by Doumit Zoughaib and her makeup and hair was done by Michelle et Colette. The celebrity herself posted few of her pictures on socail media for her fans.
In one of her pictures, the Pakistani actress was seen posing with Turkish actress Nur Fettahoglu who is known for performing role of Mahidevran Sultan in Turkish drama "Mera Sultan".
In the video, Mahira thanked everyone and said that these awards are very important for her because it is like an award for Pakistan.
In the end, Mahira also tried to say few words in Lebanese national language in which she also thanked everyone for their support.
Mahira Khan at the Beirut International Awards Festival Related at Fashion Trends