Rabbiya Abdullah is the owner and designer of first loungewear label of Pakistan, Blood Orange and she shares her personal style. We need to find out her style evolution what she considers the biggest fashion mistake.
You need to understand the body, which is key to look good and trait found among the impeccably dressed fashionistas. When people shy to talk about their bodies and the brave souls explain their work with their anatomies to take its advantage.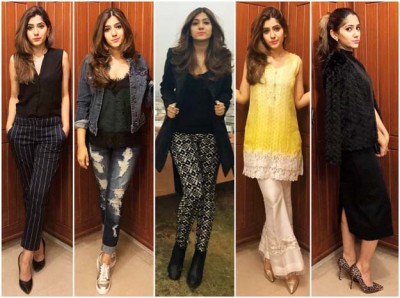 How would you describe your body type?
I would say I have figure just like an hourglass.
Has your body type changed over the last five years?
I used to be quite lean and thin naturally, but it became difficult for me to maintain my weight during last few years.
How has your style changed over the years?
My style has definitely become more easy going and relaxed. It has literally become the reflection of my personality.
In your opinion what is your most troublesome area?
My thighs!
How do you dress your body according to your body type?
I like monochromatic colors and simple cuts to complement my body easily and it also hides my problem areas.
In your opinion what is the biggest mistake a person can make while dressing here?
Most of the people focus more on incorporating labels in their outfits, and they do not think about what looks good or fits with their personality. Style is not original or personal anymore and I do not like cluttered looks. I always notice someone, whose style and ensemble is well put together.
Which silhouettes suit your body the most?
I prefer flared cuts to fitted silhouettes.
What is the one piece of clothing that you shy away from wearing and why?
I usually avoid vibrant colors and the exaggerated garments because I am a minimalist.
Learn Style Anatomy from Rabbiya Abdullah Related at Fashion Trends