Many designers don't give importance to Eid collections but it is an opportunity for several to show their collections. In the upcoming winter, several such options are available that can change our dressing style. Our top collections for this festival are presented here.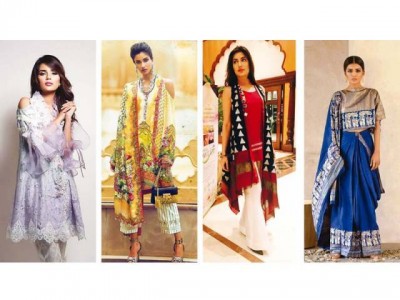 FTA
In Dubai, Karachi and Lahore, the ensembles of Farah Talib Aziz has exhibited while their commercial success is evident from the sold out exhibitions. For the past several years, the fashion house is displaying a niche for sizzling and feminine collections. The brand has depicted their signature collection in this Eid collection also by presenting tapered gharara pants, cold shoulders, peplum flairs and bell sleeves. We can say that this is the best collection of the brand as there are also dresses less than Rs. 25,000
Sania Maskatiya
Eid collection is also presented by this desirable brand. It is a mixture of eastern and western styles and named "Shades of Autumn". This collection s like previous collections that include well styled silhouettes. These designs can be used in formal occasions like Eid, fancy dinners and weddings as there are unique cuts available in geometrics alongside embellishments and angarkhas. These dresses are worn by famous actress and model Mehwish Hayat.
Saira Rizwan
Weddings are considered incomplete without the addition of this Lahore-based designer. For this special occasion, Saira released her collection 'luxury' which is her debut unstitched collection with thread work, gold embroideries and embellishments of sequins and pearls. Beautiful silhouettes can be seen during shoot of Rohtas Fort with Muzi Sufi. Good stitching can easily made these unstitches dresses look marvelous. There is a shirt piece and dupatta in every package while they are retailing at Rs. 8500.
Blocked Textiles
In the past years, this brand from Karachi has gained much popularity while it recently achieved enormous appreciation after its shoot by photographer Ayaz Anis recently. It's the first time that dresses of the brand are presented without the involvement of flora, fauna and embellishments. Hand block printed patterns are available that can be made to saris or tunics. But the brand has retained its sophistication and uniqueness in its designs. The best among them is the blue blouse covered in a printed pattern of a gold hand block.
People who are agreed with the approach of 'less is more' are the biggest fans of the famous brand of Sonya Battla. Though, many people don't like this system but her latest collection is really present in an orderly manner. You can see an indigo fusion in cotton during this collection that was made possible by experimenting the hand-dying process and the customary weaving technique. Along with Amber Sami's jewelry, this collection by Battla is on display at her E-street studio in Karachi.
Élan
'Modern Rajkumari' is the title given to the latest collection of Elan in which unstitched silk dresses are available. In this latest collection, there is decoration of floral prints along with the beauty of jeweled motifs. The campaign of brand launched in Udaipur, India this time while great enthusiasm was created by fashion photographer Nadir Feroz Khan who created several beautiful pictures during this campaign. The dresses of unstitched design by Elan are available from Rs. 11,000 to Rs. 12,000.
Best Eid Collections 2016 Related at Fashion Trends