Men can improve their personality by styling their hair. You should know main features of your hair and also choose appropriate hair products in order to get an accurate men hairstyle.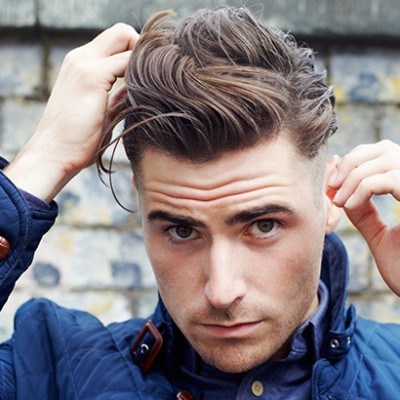 Overall personality of men depends heavily on men hairstyle. As compared to women, men hairstyle is relatively easy to make. Yu only need to know the appropriate hairstyle for you according to men's hairstyle trend along with a proper haircut. Few tips provided you will guide you further on this topic.
It is very important to know about the right kind of hair according to men hairstyle that is suitable for your personality. You can get three basic types of hair:
People are dependent on their genes for colors of their hair and there are different hairstyles suitable for various hair colors. Short length men hairstyles are suitable for red colored hairs. But most of the people have brown and black colored hairs and these people with these hair colors can have any type of hairstyle. The best hair color is blonde. For blonde hair, both long and short length men hairstyles are suitable.
Hairstylist should be selected very carefully. You can keep your hair healthy and in their best form if you have the luxury of a professional hairstylist.
Stylig your hair heavily depends on hair products. You can get a suitable hairstyle according to latest men's hair trend with the help of hair products but you should be careful while choosing these hair products. Famous brands like Clairol, Wella and Neutrogena should be your first choice.
Styling according to Situation
Choose your men hairstyle after considering the place where you are going. Spiky men hairstyles are not appropriate in case you want to make first impression or going to office. In these circumstances, cool and simple men hairstyles are best. In other occasions also, choose the men hairstyle according to the situation and place.
If you want to know the types of men hairstyle then there are three types of men hairstyles according to their length. You can know about them in detail here below:
Hairstyles like gel back hairs or spikes can easily be made with short length hair. The youngsters that are still studying can adopt spikes as these casual hairstyles suits them well. For mature men, the more suited version is the gel back hairstyle as it is considered a classic and formal men hairstyle. Another suitable look with short length men hairstyle is sideburns. But these sideburns should not surpass your ear lobe.
Medium length men hairstyle
Medium length hairs are perfect for several types of men hairstyles. You can have rough hairs with this length of hairs. In this men hairstyle, hair edges are not neatly trimmed and you are not required to brush hair. It is quite similar to as you wake up and move somewhere. Another suitable look with this men hairstyle is goatee. Outer edges are also best suited to make outer edges.
Long length men hairstyle
This type of hairstyle is the most difficult one for men to keep in shape. It is necessary to apply proper hair products and also to wash these hairs of long length on daily basis. Men with long hairs look adorable with wavy men hairstyle and straight men hairstyle looks.
Tips Style Your Hair Related at Fashion Trends