Changing weather doesn't suit everyone and it affects humans in a way. Especially, the cold weather after summers affect almost everyone where problems like cough, cold and flu affects everyone. But you can protect yourself from these diseases in the changing weather. For this purpose, you don't need any doctor but these few home remedies can do the job very well.
Juice of Honey and Ginger
Honey is quite helpful to eradicate throat infection while ginger has antibiotic properties. If you want to remove throat pain then grind the garlic and mix honey of the same quantity and make mixture of both of them. If you don't like the taste of this paste then you can add half glass of warm milk in it to improve its taste.
Turmeric
You can use turmeric in several ways. You can take turmeric powder in milk which is very beneficial while you can also smell the smoke of burning turmeric and it will provide immediate comfort in cough and throat infection.
Flaxseeds
Flaxseeds are in use for thousands of years and they are very beneficial in winter season. Boil flaxseeds so much in water that its mixture becomes thick. You can also add honey and lemon juice to improve its taste. Take this mixture twice a day in order to protect yourself from diseases of winter.
Brown Sugar
Brown sugar has more benefits than white sugar while it is the best home medicine for everyone in winter season. Boil black pepper in water and put turmeric and few pieces of brown sugar in it and mix them unless brown sugar becomes completely dissolve. This mixture is very beneficial in winter while it is also important to eradicate chest infection.
Tea with Spices
Spice Tea gives you relaxation in winters and it can also be prepared quite easily. Put tea granules in water and boil and then put turmeric powder, garlic powder, cinnamon powder or grind black peppers in tea and drink without adding any milk. You can also add honey in this tea.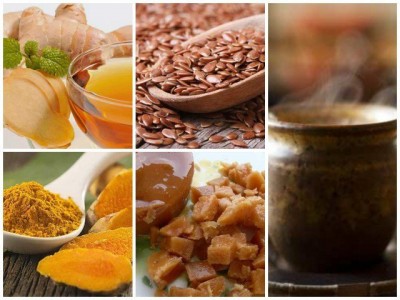 Remedies to protect against Diseases of Cold Weather Related at Fashion Trends