Setting up a new home or house renovation requires lot of planning while decorating and planning of kids' room for parents is also an important job like renovation of house. Apart from providing quality education to their children, it is also necessary for them to give them a good environment to live that would complete their desires and create creativity in them.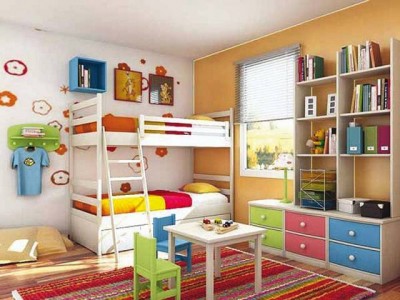 This can be achieved by balancing security, style and value. You have to rightly think about formation of their room after decided it to function as study room or play room. Age and number of children also have to be kept in front before deciding about the furniture and layout of the room. Following are few ideas and tips to make a kid-friendly room.
1. Colour
The color of the room is the first thing which is seen by a child. It is necessary to choose that color which is liked by children or which makes feeling of his own room in the kid. You should show different colors to children and see their mood that will help you to know about the favorite color of your child. In most of the conditions, light colors like coral, lavender and sky blue are better the best thing is to use color after knowing the choice of your kid.
2. Beds
You can save lot of space by using bunk beds. Children also like them as they are quite stylish. You can order them online while they are also available from many stores while you can also make them according to your own choice. You can also decorate them quite easily.
3. Decoration
An important feature of a room is its decoration. The decoration should not be gloomy for kids' room. It should be modern yet simple and classic. The kids' room can beautifully be decorated with chalkboard paint, photo frames and wall art that are fun to watch and provide background of the room.
4. Furniture
Safety and stylish should be the two features of furniture of kids' room. It should provide basic necessities of a child but it should not be in excess.
There should be a play table and chair for small kids for arts and crafts while study desks are necessary for school going children. You can especially make the furniture according to the favorite cartoon of your kid. But there should be enough space in the room free from furniture so that children can roam freely.
5. Theme
You can easily differentiate rooms through their themes. Taking a combination of two colors or wallpapers can be used as a theme that will create a unique look at the side of bed. But it should be remembered that interest of kids change with advance in age. You can better plan the theme of room by knowing about the favorite activities of your children. You should make the theme adaptable to new conditions.
Ideas to Plans Kid-Friendly Room Related at Fashion Trends