Turnip Juice is called as the 'national drink' in Turkey. But it is important to take this drink after mixing it with few other drinks as it is not suitable to take this drink alone. It is because the taste of turnip juice is bitter and the mixture of other sweet drinks will lessen its bitter taste. But this juice is quite refreshing and delicious. The juice of this vegetable along with its leaves is rich source of Vitamins A & K and magnesium.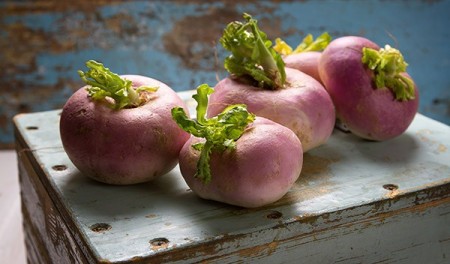 1.     High Amount of Nutrient
The nutrients and anti-oxidants present in this juice are very helpful for body to make it fight against many diseases of liver, bladder and also rheumatoid arthritis.
2.     Strong Antioxidant
Powerful antioxidants are known to slow down the dangers of different types of cancer. These antioxidants help the liver to remove different toxins and thus prevents from carcinogens.
3.     Lose Weight
By daily drinking of turnip juice, you can control obesity as it helps you to reduce weight.
4.    
Due to the presence of iron, this juice is also beneficial for anemia and can reduce the disease.
5.     v
This juice is can also help to remove kidney stones as lot of water is present in the juice.
1.    
The recipe for turnip fennel juice includes blending of ½ turnip, ½ fennel bulb, 1 apple and 3 carrots.
2.    
You can easily make this juice by taking 1 small turnip and 1 small beetroot and cutting them into pieces. You can serve this juice after adding small amount of salt and lemon.
3.    
This juice is best choice for people of every age. 3 cup chopped turnip green and 3 cup chopped green cabbage is the stuff required to make this juice.
4.    
You can make this sweet calcium juice by blending 3 cup chopped apples and 3 cups chopped turnip green. The best time to take this juice is morning breakfast.
5.    
Rootastic juice is very healthy juice due to the presence of different fruits and vegetables. For making this juice, you should extract juice of 1 large turnip, 2 apples, 2 medium beetroot, 1 inch ginger root and 2 carrots. Now mix this extract in ½ cup coconut water. Always use this turnip juice in your breakfast in order to remain healthy and fit. It will make you energetic and strong. 
Best Benefits Of Turnip Juice Related at Fashion Trends