Your eyes not only tell about your personality but your health condition can also be judged through color of your eyes.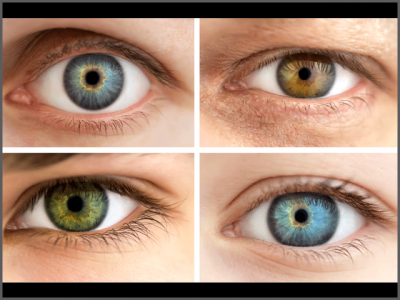 Structure and color of eye is given much importance in face reading. Now the results of new scientific research has also included in these old information that are helpful for you to know about personality health of yourself and your friends.
Brown Eyes
The brown color of eyes is due to high percentage of 'Melanin' in the body. People with this color of eye are usually powerful and commanding and like to lead others. They are faithful and respectful but they don't like to become subordinate of others. According to a research report, people with brown colored eyes take 2 hours less sleep and remain awake for longer.
Blue Eyes
An important especiality of people with blue eyes is to remain steadfast in competition. In a research on women with blue eyes, it is discovered that such women has the ability to bear problems and soon comes back to their normal routine of life.
Grey Eyes
Grey eyes are present in very few people while they are a different form of blue eyes. But their personality is quite different from people with blue eyes. People with grey eyes usually try to please others but their personality has duality. Any of their aspect can come in front according to time and situation. People with light grey color don't want to be social and are very careful to meet strangers. They make someone friend after spending a long time with him.
Green Eyes
Green eyes are thought to be symbol of very mysterious personality but these people are in fact very attractive. Apart from that, they are self sufficient, full of creative capabilities and perform best under pressure. It is difficult to speculate about their next action but they can contain their anguish for quite long.
Hazel Eyes
Eye experts say that people with hazel eyes can change color of their eyes from green to brown in one second because their eye color is the result of combination of these two colors. People with hazel color eyes are independent, self confident and try to take maximum benefit from life.
But a research in University of South Australia shows that the reason of hazel colored eyes is imbalance in the relevant gene due to which such people can face health problems of digestion and liver.
Eye color represents your Personality Related at Fashion Trends