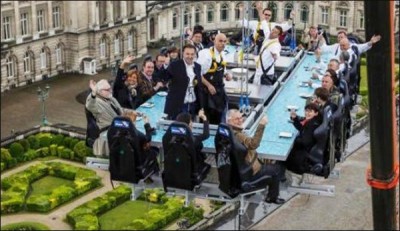 If you want to take the meal on the tables surrounded by the clouds, then you will have to visit the hotel, 'Dinner In the Sky', which is located in Brussels, Belgium. You will have to get the enjoyment of the meal in such a hotel, which is surrounded by the clouds and it is suspended between the earth and the sky.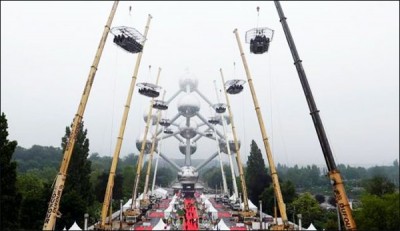 A video is uploaded here in which the people are taking their meal in the hotel, 'Dinner in the sky' but the people should be strong at heart as they will have to take the meal at the height. In this hotel, the tables of different and tasty dishes are settled and 200 guests will be tied with their chairs through ballet. Each guest in this hotel will be charged with 273 Euros.
The hotel chef said that when the guests are served at such height, then the meal will become cold, so they will serve the guests with cold drinks and after having the meal, they will be served with cold sweet dishes. This hotel was introduced by David Giesels ten years before and now it is spread to 56 countries of the world.
Enjoy Meal in 'Dinner In the Sky' in Brussels Related at Fashion Trends