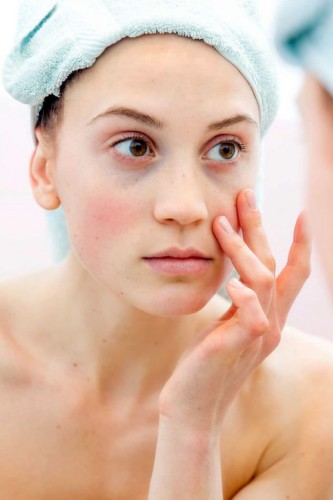 According to different skin types, pimples can be treated in different ways. But there are also such home remedies that can treat pimples on skin of any type.
Women usually complain about spots due to dry skin while pimples are due to their oily or combined skin. This is a universal problem and you can use several methods to treat this problem. One of the most effective ones is the use of natural home remedies to treat your pimples while few of these home remedies are presented here below.
Neem Paste
It is a very simple home remedy for treatment of pimples. For this purpose, make a paste by blending neem leaves with water and then apply this paste on the affected area. Apart from that, you can also boil the water and use it for bath. This remedy will not only treat pimples but also helps to halt its return in the future.
Sandalwood Mask with Basil
This will take some time but it is also an effective treatment for pimples. Take sandalwood powder and basil leaves powder. Mix both powders in water then apply this paste on pimples. This will treat your pimples in no time.
Nutmeg and Milk Mix
This is another effective remedy for pimples in which you have to form a thick paste by mixing nutmeg powder in milk. Apply this paste on the affected area of your skin and leave it there till it gets dry. Now use clean water to wash it off. In order to cure your pimples quickly, you can even keep it for the whole night.
Eye Drops
Few will feel surprise to know about this home remedy as eye drops are also effective in treating pimples on face. You can reduce irritation and redness of pimples due to certain useful ingredients in eye drops. But only the generic eye clear drops must be used for treatment of pimples.
Peppermint
Another natural way to heal your pimples is by using peppermint. First, made the paste of peppermint and apply it on your pimples and let it dry. Later, use clean water to wash it off. You should always use fresh peppermint leaves while the paste should be use in thick texture.
Fuller's Earth and Rose Water
This is one of the most trusted remedies for pimples since long. Just mix fuller's earth with rose water and camphor to make a thick paste and then apply it on the affected area. Wash it off with water after it gets dry.
6 Home Remedies for Treatment of Pimples Related at Fashion Trends