The Fashion designer Sadaf Amir displayed the newest bridal summer collection 2015 at Qatar International Fashion Festival, Doha.
GIFF carried out on 19th of March 2015 at the Sheraton Hotel in Doha, Qatar. Sadar Amir brought her newest Eastern Bridal collection. Once again same sense of opulent detailing to her modern pret wear was seen.
The Feminine summery shades on silks and chiffon's along with cheerful embellishment were very beautiful. This collection is decorated along with rich hand crafted works and as well it produced along with shimmering jamavar silks and embossed cotton nets.
Pakistani models along with Qatar models together ramp and they were all appearing very stunning in Sadaf Amir Bridal Collection International Fashion Festival Doha.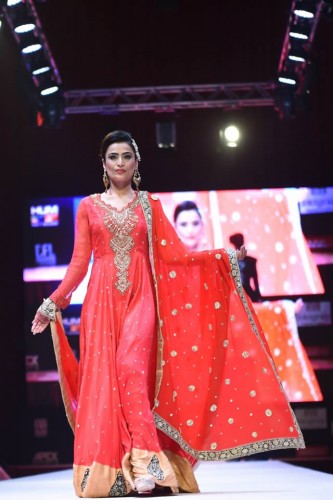 At IFF Doha Embellished by Sadaf Amir Collection Related at Fashion Trends