Ustad Rahat Fateh Ali Khan is the leading and popular singer of Pakistan and he has completed his hat trick of the live concert in Karachi. Thousands of the fans attended his show in Karachi for three consecutive days and they got enjoyment of his music in this concert. During the concert, he presented his very popular songs and also the qawwalis of Ustad Nusrat Fateh Ali Khan.
The prominent and exceptional singer of Indo Pakistani, Rahat Fateh Ali Khan conducted his three tremendous concerts for three continuous days in Karachi and his concert and he also completed hat trick of the live concert. The world known singer, Rahat Fateh Ali Khan showed his skill and talent in this live concert on the night of Sunday and he won the hearts of thousands of people. Rotary Pakistan Literary Mission managed this concert.
Salman Ahmed presented the shorial comprising of the international heroic deeds of Rahat Fateh Ali Khan in this live concert and the audience appreciated it. During the concert, Rahat Fateh Ali Khan presented his popular songs and the qawwalis, which Ustad Nusrat Fateh Ali Khan also sang.
He said that this concert was one of his most memorable performances of his life and the people of Karachi showed their discipline in this big concert and he wanted to salute them for their discipline.
The life achievement award was also presented to Rahat Fateh Ali Khan from Rotry Club. The spokesperson of Rotary Club also said that over 100 schools will be changed in to the modern schools with the earning of this show. The leading actress, Ayesha Sana and international promoter, Salman Ahmed conducted the comparing of the concert in beautiful way.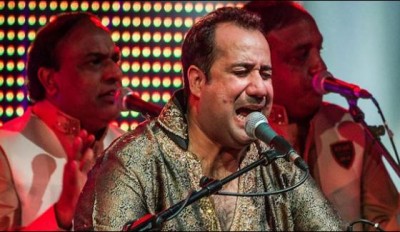 Rahat Fateh Did Hat Trick of Live Concert in Karachi Related at Fashion Trends