Javed Afridi is the owner of Pakistan Super League and he held a meeting with controversial Malala Yousafzai on Friday. The meeting was conducted in London and he met with Malala with her family members and he offered her to become their brand ambassador for his team, Peshawar Zalmi.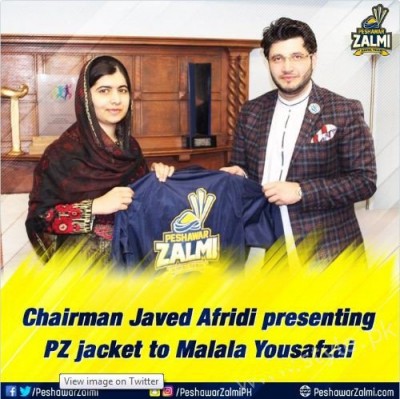 This meeting was conducted in London and he declared that Malala Yousafzai will be the face of Peshawar Zalmi in the coming season of PSL and she will cheer for his team during the tournament, which will be conducted in Dubai. He said that it would be an honor for them to be associated with Malala Yousafzai, who made Pakistan proud with her bravery and her divine right to get education and she won the Nobel Prize. Peshawar Zalmi Foundation will support her for the cause of education among the girls in Pakistan and other countries.
Javed Afridi presented the official jacket of Peshawar Zalmi to Malala Yousafzai, who is the youngest ever Nobel Prize winner and she is the second prize winner of Pakistan.
On hearing this news, the fans and supporters of Peshawar Zalmi got angry and they started protesting against this news on the social media and on the official page of Javed Afridi. The fans also abused and they shared their comments that she is a traitor and she did not show her true patriotism with the country. The fans and supports also threatened Javeed Afridi that they will not support Peshawar Zalmi team if the name of Malala is associated with his team.
When the matter become furious and the fans and followers of Peshawar Zalmi got angry, then Javed Afridi took the U-turn when Javed Afridi clarified.
He added that during past few days, lot of miscommunication and misinformation about the ambassadorship of Peshawar Zalmi and said that the Nobel Prize winner, Malala Yousafzai is not the brand ambassador of Peshawar Zalmi.
It is not sure that justification on this issue is true or it is taken to calm down the fans and supporters. It is also said that Javed Afridi has no intention to associate Malala Yousafzai with Peshawar Zalmi. Then why did he present their souvenir to her? Malala Yousafzai has great importance on the national event and the true heroes are such people, who support Pakistan and the people of the country.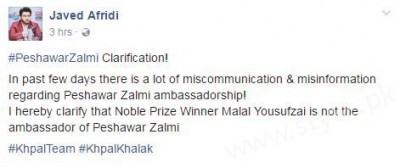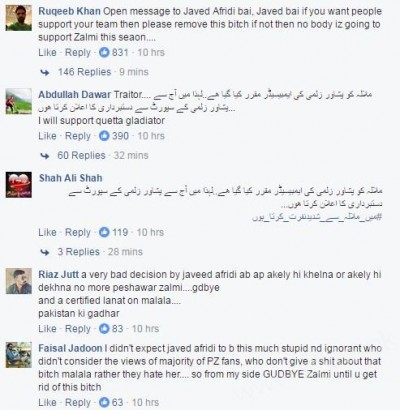 Malala Yousafzai Rejected and Declared a Traitor Related at Fashion Trends