Mostly we see that two female actors don't have good relationships but a recent incident shows that it doesn't happen always.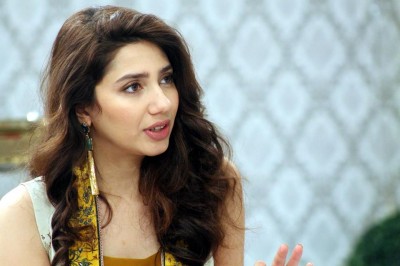 In a recent post by a magazine on Instagram, it was posted that performance of Ayesha Khan in drama "Khuda Mera Bhi Hai" was remarkable which is far more astonishing than her ordinary acting in drama "Mann Mayal" and film "Jawani Phir Nahi Ani".
Later, several Instagram users admired the performance of the actress through comments which also include fellow actress Mahira Khan. She wrote that she has performed superbly in several of her dramas including 'Vasl' and several others.
After magazine's comment, Ayesha Khan replied that she is thankful for this comment but praising along with insulting is not praise by any mean. The actress also thanked Mahira Khan and said that she is beautiful not only from outside but also from inside due to which everyone likes her. She also praised her for giving a suitable reply to an Indian on 3rd September when he bullied her for working in India.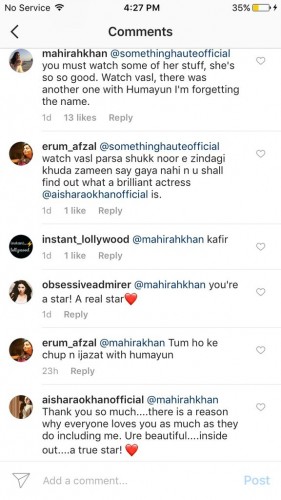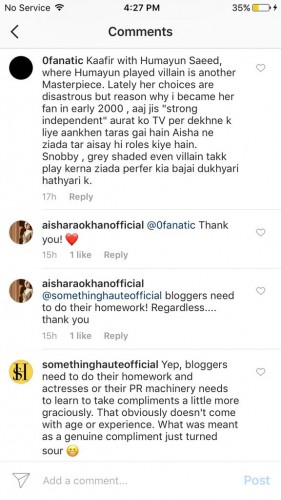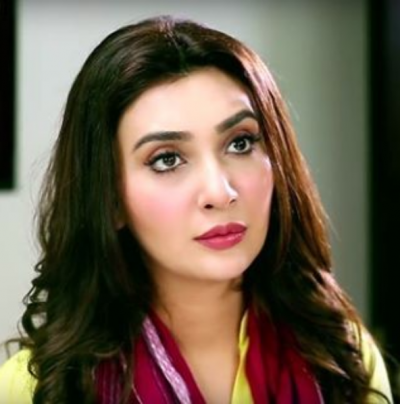 Mahira defends Aisha Khan on Instagram post Related at Fashion Trends