Famous Indian comedian Kapil Sharma started fighting fellow actor Sunil Grover during a flight while returning from Australia.
Comedy show "The Kapil Sharma Show" is very famous whose host is Kapil Sharma while fellow actors also entertain spectators which include Sunil Grover, Ali Asgar and Navjot Singh Sidhu.
According to Indian media reports, the whole team of comedy show arrived to Delhi Airport from Australia where it boarded on a flight for Mumbai. During flight, Kapil Sharma started quarrelling fellow actors under the effect of alcohol. During that, when he cried on Chandan then Sunil tried to stop him after which he started fighting that created chaos in aero plane.
Passengers demanded emergency landing on this situation but pilot informed the administration after landing on Mumbai airport. On the other hand, Kapil Sharma tried to conceal his shameful act by spreading the rumor of marriage but he could not succeed in this.
Sunil Grover is considered an important part of  "The Kapil Sharma Show" and his acting is liked by viewers.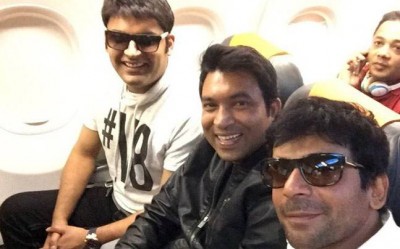 Kapil Sharma fights Sunil Grover during Flight Related at Fashion Trends