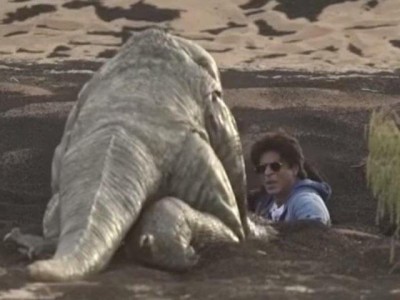 Shah Rukh Khan super star of Bollywood was left fuming when the Egyptian comedian and host, Ramez Galal pranked him on his show. The actor did not like this idea and he gave the response in negative way. When Shah Rukh Khan was busy in the shooting in the deserts of Dubai with the TV presenter, Nishan and both the persons became victims of this prank.
Ramez Galal is presenter of Ramez Underground and he showed this prank but Shah Rukh Khan did not like this idea of amusement and he came close to punch him. Ramez wore the Komodo dragon costume and he came close to SRK and started hissing towards SRK and others. He started to splash some sand over him but to no avail then after some time of the torture, Ramez removed the costume and revealed that it was only a prank. Unfortunately Shah Rukh Khan did not take it seriously and he lashed out at Ramez.
When Ramez felt that SRK got out of anger, he apologized for his move many times. He continued taking and apologizing from him and at last, SRK lost his temper and he pushed him on the ground and blew a fish over him. Then he went on drag him on the ground by his leg. Then Ramez started singing the song, Marjani Marjani of Billu Barber of the actor. The Shah Rukh Khan left the smile and he went to his car but he did not accept his apology. The comedian posted a selfie with SRK on the twitter but it cannot be said for sure that this picture was taken before or after the prank.
Talk Show Host Prank SRK but he Came with a Blow Related at Fashion Trends