Famous politician Sheikh Rasheed is once again in the headlines but this time it is due to his heroic escape and arrival at committee chowk instead of his dialogues. Yesterday in the morning, the chairman of AML said that he will reach the committee chowk to address his supporters despite the presence of article 144.
Containers Set Around Laal Haveli
In order to restrict any entry or exit, the police sealed the 'Lal Haveli' by placing containers in the surrounding areas. But Sheikh Rasheed even then was able to reach the chowk as he was fully aware about the streets of Rawalpindi. According to his previous announcement, he reached at the venue of committee chowk at 4 pm to address his supporters who reach there in small numbers due to restrictions and arrests from police.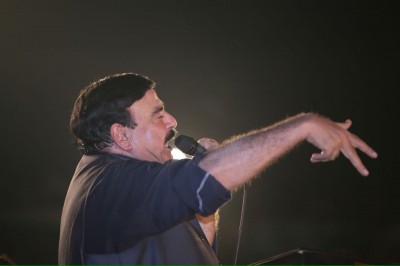 Sheikh Rasheed Arrived on a Bike
Sheikh Rasheed is a MNA who supports Imran Khan against the ruling party. At the exact time, he arrived at the scene on motorcycle while he was captured by camera on the way as he climbed at the top of the van to be easily seen. There, Sheikh initially lit a cigar and gave a challenge to government to arrest him. He also said that media should present the true picture of the situation as police is harassing all the people including women and children and also arrested 450 people without any charge.
It was Sheikh Rasheed's day today pic.twitter.com/331D15RsLC

— Sabena Siddiqi (@sabena_siddiqi) October 28, 2016
جو لوگ کہتے ہیں کہ شیخ رشید چار بندوں کیساتھ آئے وہ لاکھوں لوگ کا سمندر دیکھ لیں اور شرم کے مارے ڈوب مریں pic.twitter.com/fueUHnaFkc

— M. Hanzala Tayyab (@HanzalaOfficial) October 28, 2016
Video
شیخ رشید نے دفعہ 144 کے 144 ٹکڑے کر دیے ، کمیٹی چوک میں دبنگ انٹری

Sheikh Rasheed Great Escape Twitter Top Trend Related at Fashion Trends