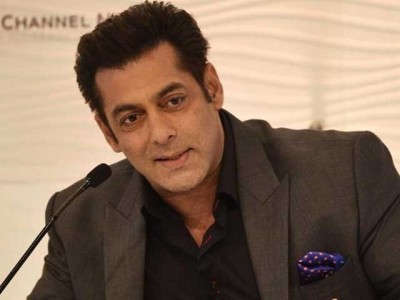 New Delhi, The leading Indian actor, Salman Khan said that his father is Muslim and his mother is Hindu but he does himself human being rather than Muslim or Hindu.
During the 15th Leadership of Hindustan Times, various people belong to different walks of life in India shared their views. Bollywood king, Salman Khan represented Bollywood film entertainment industry in the summit and he brought various things of his parents, religion, personal life and reality show, big boss.
During summit, Salman Khan talked with media and said that Bollywood has no religion. His father, Saleem Khan is Muslim, his mother Sheela is Hindu and he declared himself the human being. He also said that all of the people, who work in the Bolywood, they belong to different religions and they work together. Every person works in the industry whether he is carpenter, spot boy, light man, hero, heroine, director or producer, they do not feel any religion. There is nothing like Hindu, Muslim, Sikh or Christian and there is not superior or inferior in the film industry. Every person of the industry deserves for respect. It shows clearly that Salman Khan declares himself Human being rather than declaring Hindu or Muslim and Humanity is the big religion for him.
During the summit, he talked about the most controversial reality show of India, Big Boss and said that there are the rumors in media that the matter of the reality show, Big Boss is already settled and people present in home, fight with each other according to the orders of the big boss but it is totally wrong. You think if the team of big boss gives a new turn to the show, then how it is already settled.
Furthermore, Salman Khan tells the method to fight with their inner fear that they should fight with the fear rather than run away from it. He also talked about the fears and said that he won against it. He makes quick decisions according to the situation rather than deep thinking to remove the worries from his life and makes his life happy.
He appeared in the court in Jodhpur before the magistrate in the illegal hunting of the deer and said that he is Hindu and Muslim at a time and he is also an Indian. His old video went viral during April this year in which he keeps quiet when the prayer call was being delivered and he also let then host of the show be quiet during prayer call.
Salman Father Muslim Mother Hindu Related at Fashion Trends