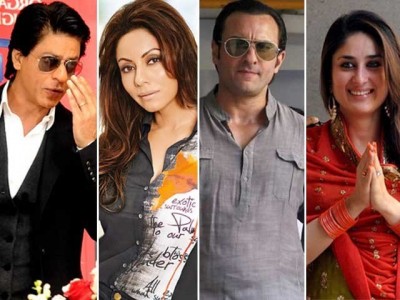 Mumbai, various movies are made in Bollywood film industry, in which the people of two different religions love each other and they run off from their homes to get married. But it is really happened in the Indian film industry, where various Muslim actors get married with the non-Muslim women. They got married irrespective of their religion and now they are leading very happy life.
Shah Rukh Khan and Gori
The Muslim actor, Shah Rukh Khan, who performs the romantic characters in the bollywood movies, is married with such a woman, who belongs to sikh religion. Gori Khan is his childhood friend and they got married in 1991 and they belonged to different religion but they are leading very happy life. They have three children but they did not decided what will be their religion.
Amer Khan and Kiran Rao
Mr Perfectionist of Bollywood, Amer Khan is Muslim and his wife, Kiran Rao is Hindu. They are on their own religion for last 12 years and they are leading very happy life. This is the second marriage of Amer Khan and his first wife was also a Hindu, who was Reena Dutt.
Saif Ali Khan and Kareena Kapoor
Saif Ali Khan and Kareena are called the happiest couple of the Bollywood. Saif Ali Khan is Muslim and Kareena is Hindu. This couple has a son, Taimoor Ali Khan and he became an apple of an eye in the media soon after his birth.
Irfan Khan and Sitapa Sikdar
Irfan Khan is talented and versatile actor and he is Muslim while his wife, Sitapa Sikdar is Hindu. The love story of the couple was started from National School of Drama and after that they got married.
Fardeen Khan and Nitasha Madhwani
Another Muslim actor of Bollywood, Fardeen Khan got married with Nitasha Madhwani, who is the daughter of leading actress, Mumtaz in 2005. She belongs to Hindu religion.
Imran Khan and Avantia Malik
Imran Khan is nephew of Amer Khan and he also tried his luck in the film industry but he could not become successful in the movies. He was born in the Muslim family and got married in the Hindu family. His wife, Avantika is Hindu and they are enjoying their lives.
Sohail Khan and Seema Suchdev
Sohail Khan is the younger brother of Salman Khan and his life is like a film story. His wife Seema belongs to Hindu family and the family of Sohail was not ready to get married with her. On the release of his first movie, 'Pyar Kia Tou Darna Kia' as director, he eloped with her and they got married. They are leading very happy life.
Zaid Khan and Malaika Parekh
Zaid Khan is the unsuccessful actor of Bollywood and he is also cousin of Fardeen Khan. He got married with the Hindu girl, Malaika Parekh.
Non Muslim Wives of Muslims Actors of Bollywood Related at Fashion Trends