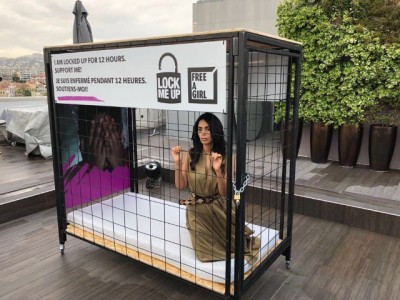 Mumbai, The popular actress of Bollywood film industry, Maleeka Sharawat got registered her strange protest by closing her up in the cage against the child sexual abuse. The people and her fans were surprised because of her strange protest.
The Cannes film festival is being conducted in the French city, Cannes in the entertainment world and it has great importance. The leading and important celebrities associated with the showbiz industry gather there. The Pakistani actress, Mahira Khan attended the 71st Cannes film festival on the red carpet and she gave surprise by wearing the wonderful and beautiful dress and she got tremendous appreciation. At this moment, the Bollywood actress, Maleeka Sharawat caught her up in the cage and she got registered the unique protest against the sexual abuse rather than by wearing the strange and beautiful dress.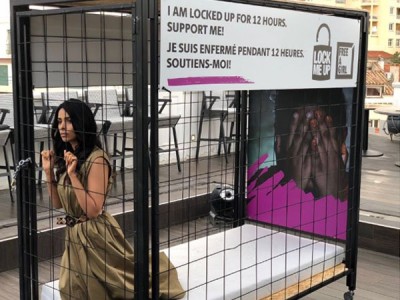 According to Indian media reports, the Bollywood actress, Maleeka Sharawat launched the 'Free Girl Lock Me Up' campaign at Cannes Film Festival and she was locked up in 8 feet high and 12 feet wide cage and she raised her voice against the sexual abuse. The leading actress said that she is attending in this festival for 9th time and it is the most suitable platform, from where she can raise her voice against the sexual harassment and the smuggling of the girls. The actress said that she locked her up in the cage and she gave the feelings to the world how the small girls are locked up in the small cages and they are trapped and smuggled. After that these girls spend their lives quietly without any help. But she feels that due to her awareness campaign, it can play the positive role to solve this issue.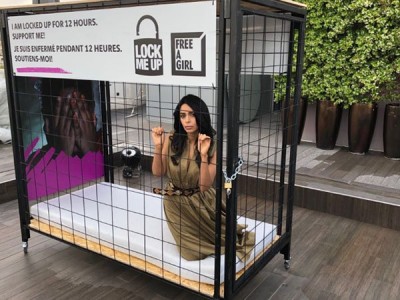 Malika Sharawat Strange Protest against Child Sexual Abuse Related at Fashion Trends