Karachi, The celebrities of Bollywood are going to celebrate the best performances and gives the awards to the higher performers. The leading and well known fashion giants of India are going to introduce the unique and wonderful collections of the dresses and they showed their best designed dresses. The celebrities were worn with bold cuts, high slit dresses and the sheer gowns. The two icons won the hearts of the audience during this award ceremony and there were Parineeti Chopra and Shilpa Shetty.
Shilpa Shetty
The actor was looking very hot in the high slit gown, which Manish Malhotra designed. She has the off shoulder pleated dress and easy style at the waist with brown belt and it is highlighted with toned physique. The dresses are accentuated fashion statement with golden mehernosh, pointed gold chained heels by Oscar de la Renta and Heeramaneck earrings. The dress gives the wonderful look and the half tied updo and smokey eyes added the finishing touches.
Parineeti Chopra
Parineeti Chopra was dresses in the dark and bright pink gown, which is strapless designed by Mark Bumgarner and it is added with oversized bow to complement her style. She also likes to keep her hair straight and wore the minimal accessories and maintained the focus on the dress. It is added with dangly pearl earrings, and candy pink pout to complete her look. It helps the actor to give her the full points for being able to carry the strapless number with the beautiful and unique grace.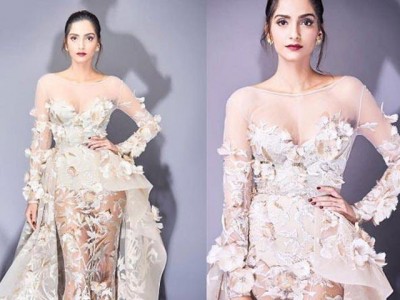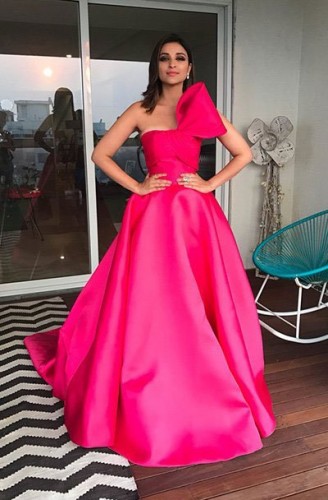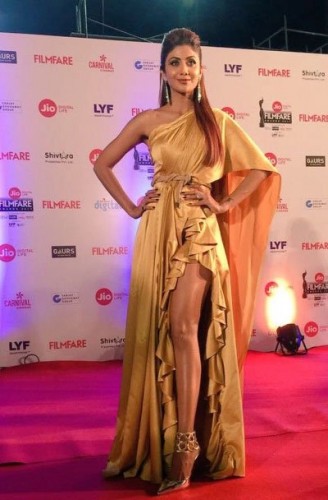 Fashion Show for the Filmfare Awards Related at Fashion Trends