At the opening ceremony of the Cannes Film Festival on Wednesday, Bollywood star Deepika Padukone arrive at the red carpet in a jewel toned maroon dress by Marchesa Notte with having her hair open. She arrived before the screening of 'Les Fantomes d'Ismael' by Arnaud Desplechin.
Deepika Padukone is representing global cosmetic brand L'Oreal in the film festival for the first time while she also mixed with co-ambassadors of the brand including Elle Fanning, Julianne Moore and Susan Sarandon before arriving at the red carpet.
She was looking confident with open hair while her dress was looking classy with the addition of intricate embroidery and she was really looking marvelous. She also had De Grisogono jewelry and Jimmy Choo heels to beautify her ears and feet. She was looking exceptional by having a bold plum blossom lip color along with the addition of mascara and eyeliner.
Apart from getting fame in Bollywood, the actress also achieved a name in Hollywood this year with her role in "xXx: Return of Xander Cage".
Prior to her appearance on the red carpet, the actress was seen donning a red dress at a beach earlier in the day.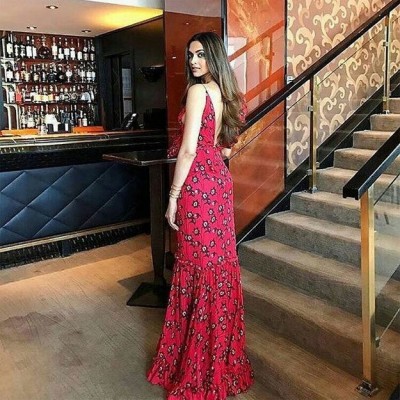 Deepika Padukone Gorgeous Look During Cannes Related at Fashion Trends