For this summer season, these extra stylish pants are making their way in the fashion again. You should seriously think about investing for a pair of culottes now. You can easily use these stylish and wide legged pants by using these three easy and quick ways.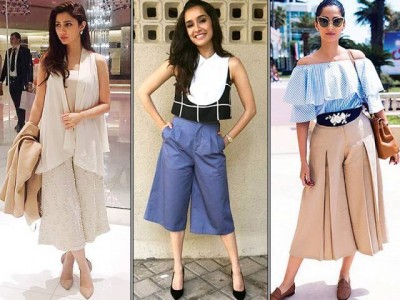 But first things first
You should know your body shape well. You can get it right with a strong and structures fabric if you are apple shape or pear shape. These trousers will look on you very well as they fall on your belly and hips. But if you are tall and slim then you will look really elegant by wearing palazzo-style culottes.
After getting idea about your body shape, you can purchase the pant according to your personality. After using these beauties, you will feel sorry for not using them before. Here are the three ways through which you can get cool looks with these culottes.
Cool for the summer
You can get organization of dress through this idea. It is not difficult to put the things together by wearing the dress accordingly. In this summer season, you can enhance your beauty in both evening party and outdoor picnic by using culottes. A good thing about culottes is not worrying about iron as they can be rolled up as it is a stretchable fabric with a creased detail. Their waist contains elastic and they look beautiful with simple shoes. You can get them in various colors from plain black to metallic. For evening parties, you can achieve a great look by pairing them with light colored sandals and a fitted T-shirt.
Smart, sleek and sophisticated
You can have a stylish summer look with modified culottes. Apart from keeping you cool, they also make you look smart when paired with a silk blouse and heels.
Use a pair of decorated heels with them for change while you can use colors of mustard, tan and dark red. You can change your looks by using tan sandals and Breton top.
Laid-back and lovely
Denim culottes are practical dress as you can use them in park, picnic, out on dinner or even during shopping. During hot summer days, you can get the style of jeans through them without feeling the heat anymore. Denim culottes are neutral in color due to which you can easily pair them with almost everything including denim blouse, fitted shirts and Breton tops. You should think seriously about purchasing them for any stylish formal event.
Cool ways to wear culottes Fashion Trends Related at Fashion Trends