Adidas now wants to respond quickly to its customers and now the German company has decided to test a store where customers can design a sweater for themselves after having a body scan to determine your size and then a modern machine will knit the sweater within hours.
The company is taking several initiatives including opening of factories in Germany and US operated by robots in order to reduce the time to provide new design to stores which is currently 12 to 18 months in sneaker industry.
The company is hopeful to improve fashion trends that would help it to sell more products at good price while it is trying to level its rival Nike by 2020 for profit margin.
In a mall in Berlin at a new Adidas store, 200 euro ($215) is the price for each sweater that are designed by customers with their own merino wool and then the whole process end in four hours including knitted in the store, finished by hand, washed and dried.
Initially, customers arrive in a darkened room where there is projection of spider web patterns and swirling camouflage on the chest and the shoppers can adjust the light through given options. On the computer screen, customers can choose among several options presented there while several color combinations can also be selected during this process.
For laser body scan, customers can choose among stripped down or standard sizes to their underwear. Then the industrialized knitting machines in the store receive these personalized patterns.
A shopper Christina Sharif told that this interesting experiment is like knitting your own sweater. She told that she changed the standard model with shorter arms.
By 2020, the target of Adidas for faster production is 50% of its total products which is double to that of 2016. It is expecting an increase of 70% for products on full price as compared to its current sale.
Eric Liedtke, Adidas brand chief, told that they can decrease risk by providing customers their favorite product at the right time at their convenient place while they can also guess the popularity of a product at the same time.
German government along with industrial partners and academics are supporting the "Knit For You" store. It was told by a store assistant that before Christmas, around 10 sweaters were sold on a busy day.
According to a spokesperson of Adidas, this concept will be pursued after evaluation of feedback and data of the project.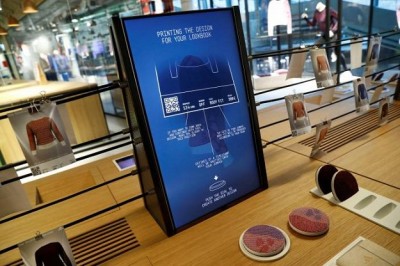 Design your own sweater with Adidas store Related at Fashion Trends