Shoes for the season
Photos were posted on 11 Apr 2011 at 8:45am
Shoes and sandals in bright colors, no doubt, this season's hottest trend brightly colored shoes. While yellow is crowned as the international color orange, citrus greens, and bright pink are also hot.You can not go wrong with anything that is bright colored shoes.
This gives you an overview of how not go wrong with brightly colored shoes, shoes and sandals:
* Shoes that big, fat areas combining contrasting colors are hot this season.
* Put your patent shoes and sandals away yet. The trend is still going strong, and a glossy finish is ideal for brightly colored footwear styles this season.
* If you're a fan of Roman-inspired shoes, you'll be glad to know that gladiator sandals are a bona fide trend this summer.
* Platform sandals and shoes are one of the hotter trends in shoes for a few summers now, and they are still on the hit list this season.
* If you are looking for shoes in the evening, you can almost always find something in silver or gold. But this season has moved from the metallic evening shoe department and any other form of footwear you can imagine.
Whether they are high heels, flats, or something in between, slingback sandals and shoes with straps are to take over this summer, that's great because they are less restrictive than pumps, and they keep your feet cooler on hot summer days.
Pin It
Viewing photos
(read users comments or add a reply)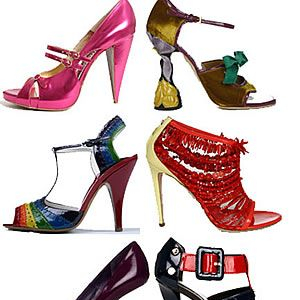 « Previous Photo
Next Photo »
You are viewing image number 1 of total 1 images.