Women always want to look beautiful and unique on occasions like Eid, weddings, parties, home functions etc. and they try to do so by adopting latest fashion designs. Here in this page, we are providing you collection of Latest Nail art Design 2017 that will help the girls to look impressive on any upcoming event. The girls all around the world are getting obsessed with funny concept of nail art designs. In this creative fashion, nails are decorated with different colors and designs.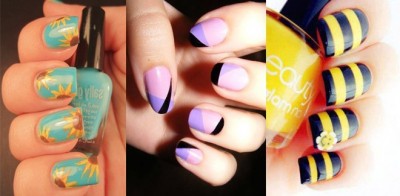 Decorating the nails enhances the beauty of your hands and feet due to which every woman wants to use radiant colors and latest designs to beautify her nails. Here below, we are showing 10 best Nail Art Designs and Ideas. You can use beads, paint brushes, glitters, stickers, nail colors and other nail art accessories for decoration of nails while these are easily available from market.
Dazzling Blue Nail Art Design
Black and blue paints give a refreshing appearance to nails which look quite amazing and soothing in summer season.
Lemon Yellow Nail Art Design
You can view below that yellow and white colors are used for this nail art design. You can make it unique by having a texture in the middle.
Cute Kitty Nail Art Design
Kitty is quite liked by many girls and you can also have cute kitty nail art design if you are a lover of kitty. This design will make your nails look very cute.
Combo of Heart & Bow Nail Art
You can have half of your nail white while other half with bow touch and dots along with one nail with heart along white linings on blue nail.
Stunning Black Nail Art Design
You can have an elegant look by having stunning black design on your nails and you can make it unique by applying white motifs on your nails as shown in the picture below. This nail art will make you look glamorous also.
Criss Cross Black Nail Art
You can make this amazing criss cross nail art style by first applying any light or soothing color and then make a criss cross design that you like. You can make this design on color of your choice including white, green, blue and red.
Petal Glaze Nail Art Design
You can have an attractive and classy design by dark brown color embellished with beautiful floral texture. It will beautify your hands a lot and the look is best for night out parties.
Tri Color Nail Art Design
You can get a perfect summer look by making your nails decorated with this tri color nail art of gray, white and lemon yellow.
Lush Combo Nail Art
There are multiple color patterns in this design. On one design, apply polka dots then make a lush black second nail and make the third nail shimmery. It will give an individual look to every nail.
Mild Net Pattern Nail Art Design
Apart from having net patterns on your socks, shoes, bags and dresses, you can alos make such mild texture on your nails also. You can view this nail art design here below.
Top Trending Nail Art Designs 2017 For Eid Related at Fashion Trends