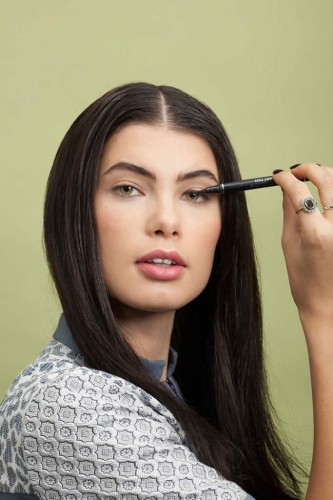 The eye makeup has the power to make or break your looks, so let us tell you about makeup according to different shapes of the eyes.
Eyes are the first thing that a person notices when he or she sees you for the first time.
EYE MAKEUP FOR DEEP EYES
In deep shape eyes the eyes are allocated deep in the eye socket and give your eyes a deeper look. Use light eye shade for such kind off eyes. This will make your eyes look less deep.
TECHNIQUE
Start applying the eye shadow from the inner corner moving outwards on your eyelid.
Use lighter shade in the middle of your eyelid and darker and deeper around the eye socket.
Blend the dark shade towards the eyebrows.
EYE MAKEUP FOR CLOSE SET EYES
Apply such kind off makeup that it makes your eyes look apart from each other. For the reason, use light shade on the inner corner and dark shade on the outer corner.
TECHNIQUE
Correct the inner corner by the help of eyeliner. Make a thin line along with the upper eyelashes and make it thick as you reach the corner of the eye. This will make an increase in the width.
Now apply a thin layer of light shade from the corner to the middle of your eyelid.
Now use a dark shade of eye shadow applying it from the middle to the outer corner.
Use mascara on the outer corner of the lashes and blend the colors in the middle.
EYE MAKEUP FOR ALMOND SHAPED EYES

The Smokey effect is the best for the almond shaped eyes. The aim is to add depth to the eyes. Using dark shades on such eyes is really well.
TECHNIQUE
Start applying neutral eye shade from the lash to the eyebrow.
Apply the dark shade of the same color on the outer corner of the eyelid.
Blend a light eyeshade under the brow to highlight it.
Use liner on the upper lid to make the eyes look bigger.
Use mascara on the upper eyelashes. Chic cat eyes will be prepared.
EYE MAKEUP FOR SMALL EYES
The main aim in making up on small eyes is making them bigger and sharper. Because in such cases, the eyes are smaller than the remaining facial features.
TECHNIQUE
Use light shade of the eye shadow on the eyelids and medium toned shade on the corners.
Apply dark shade under the brow to make your eyes look bigger.
To line the upper and lower lids use a subtle shade.
The last step is to apply the mascara on the upper lashes.
EYE MAKEUP FOR DOWN TURNED EYES
Use heavy eye shadow towards the outer corner of the lid to make the down turned eyes bigger and better.
TECHNIQUE
Start it by applying eyeliner close to the upper lash, and then along with the socket line blend the eye shadow.
To make your eyes lifted up use thick mascara.
EYE MAKEUP FOR PROTRUDING EYES
Don t use heavy makeup on protruding eyes as they are already popped out.
TECHNIQUE
On your lower eyelid use medium to dark shade to form a soft line.
Give your eyes a smudged look. But keep that in mind never use eye shadow above your crease. This will make your eyes look deep.
To give your eyes a softer look use mascara.
How To Do Eye Makeup According To The Shape Of The Eyes Related at Fashion Trends