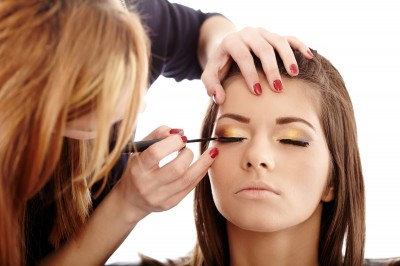 Few makeup shortcuts can prove very helpful when we are in a hurry to reach our workplace. Women can change their complete appearance with makeup. But it is difficult to get a perfect look on face due to shortage of time after selecting and wearing your best dress. For these situations, we are providing few makeup shortcuts that will help you to look amazing without spending much time on makeup. The list of these makeup hacks is provided below.
Right Application of Foundation
You can get glow on your face with foundation but it takes time due to which many women skip this makeup step. But you can easily do so with less effort and time by applying foundation correctly. You should start applying foundation from center take above towards ear.
Remove Dark Circles in Right Way
This is another useful makeup hack at the time when you are getting late. You can do this hack to conceal your dark circles when you are getting late. Consider the presence of a triangle below your eyes up to cheeks and apply the concealer in that area. This will lighten your dark circles.
Use Blending Sponge
You can get a long-lasting look with this makeup hack. Apply foundation on your skin by using blending sponge instead of your fingers or brush. You can easily spread the foundation on all over your face by applying it through a damp sponge.
Melt Your Lipstick
This makeup hack is very useful for you if it becomes difficult for you to color your lip due to broken lipstick. You can do so by melting your broken lipstick via candle. Now put this melted lipstick in an appropriate box and apply it on your lips.
Use Baby Powder to Thick Lashes
Thin eyelashes are not considered beautiful. You can easily thick your lashes by using baby powder. Before applying mascara, just dab a small amount of baby powder which is very helpful to make your eyelashes look thicker.
Five Makeup Tips to look Beautiful at Workplace Related at Fashion Trends