The eyeliner has its own impact in the makeup as it gives the shape to the eyes. People find the black color liner in traditional way and it has the great variety of liner, which can work with various colors. Now you can get the liner in different colors. It is very simple to apply the black color liner but the application of colored liner is different. You can get the information for the creation of the dramatic party look with the colored eyeliner. Now you can get the information from the article 'How to apply colored liner'.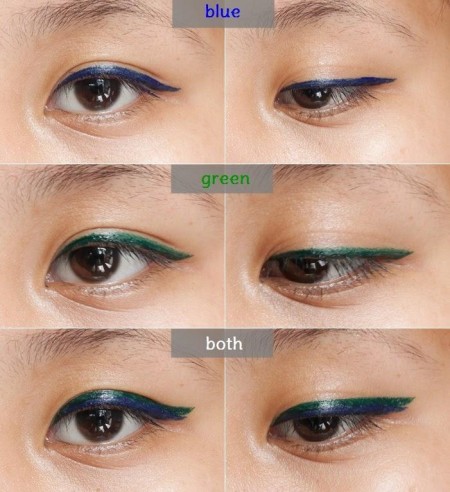 How To Apply Colored Liner
It is the imperative for the women to choose the best and suitable colored liner, which is correct for their eyes. The eyeliner having the deep purple eyeliner can give the dark brown or brown or the green eyeliner look to your eyes. The women and girls can get the information for the application of the colored eyeliner and they can also watch the pictures, which are added here.
Choose The Color
When you start the application of the colored eyeliner, the first step is the selection of the eyeliner and it will give best look to your eyes. When you complete the first step then you start the next step.
Apply Eye Shadows
In the  next step, the women and girls can apply the eyeliner and before this, wash your colored eye shadows over the eyelids with the application of the soft brush. The women should also use the smaller brush to add the shadow to the little eyes under the eyes.
Use Highlighter Powder
The women and girls should also use the highlighter powder on the corners of the eyes. It is used to make the eyes long and big.
Apply Liner
The women and girls should also apply the liner. They should use the fine strokes of liquid liner to make the perfect and beautiful shape with the eyeliner. The women and girls will also keep the shape of the liner same to the black color of the liner, which they apply. Then they should apply the black liner in the inner corners of the eyes and try to apply the liner when there is little eyeliner on the brush.
Apply Mascara
The women should apply mascara after it. They should use mascara in the zig zag movements to apply the coats over the lashes.
Contrasting Eyeliner
The women should use the contrasting eyeliner on the inner sides to give them the final step.
How To Apply Colored Liner Related at Fashion Trends