The rates of makeup artists are very high but you can bypass them after learning few important tips from us. It is rather easy to keep away from professionals during a function like mehndi but you can also make your own way during main wedding functions if you are confident of your skills. Following is the 10 step guide that will help you to do bridal makeup at 10 perfectly.
Research
The first thing to do before starting bridal makeup at home is to research thoroughly and know about different looks by viewing the reference images of different styles. After choosing the best look and style, you should search for tutorials to accomplish this look. It will help you to get a best look on your wedding day.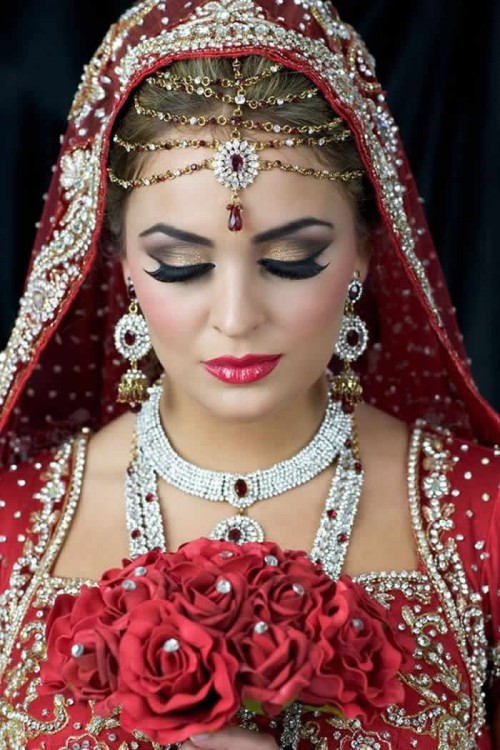 Prepare in Advance
You should start moisturizing your skin and use sunscreen in the day 2 to 3 weeks before your wedding. Otherwise your skin will look fade before wedding. You will need less makeup on your wedding day if you treat it well before. Cleaning, moisturizing and toning will make your skin look fresh and soft by dissolving dead skin cells.
Prime Business
You should get your skin perfect by using foundation, concealer and primer. On breakouts, uneven surfaces and wrinkles around the eyes, initially use primer and then use oil free foundation to make more coverage. Instead of these, you can also use tinted moisturizer with your fingers on the whole area from your face to neck.
Conceal your Secrets
In order to conceal broken blood vessels and visible blemishes, use a highly pigmented cream concealer with main focus on red spots, under-eye area and nose. But use it in limited amount as the light-reflecting pigments will look bad in pictures.
Shape your Face
Use a shade on face darker than your skin color. Use the product on hollows on our cheeks made while sucking. On cheekbones and T-zone, use a shimmer power to highlight. It will make your face glow.
Eye care
For neutral eyeshadow shades, use bronze, brown and gold colors. Extra effect can be produced by using medium color on the crease and light shadow color on the eye. Your bone brow can be highlighted by using shimmery color.
Eyeliner, Eyelashes and Eyebrows
First apply black or brown kajal and then apply liquid eyeliner. At the corner, create a winged or cat eye. Apply three coats of waterproof mascara by curling your lashes. Use a liner and brow powder to fill a shade closest to your hair color.
Use Blush
On the apples of your cheeks away from nose, apply blush. Avoid extra redness on the face to get natural blush.
Everlasting Lipstick
Erase dry lines and hydrate your lips by using lip treatment. Fill color to the whole lips and shape them with a liner. Avoid uneven look by keeping your lips out of contact.
Set it Right
In the end, you can set your makeup by using a transparent dusting powder. You can get a complete look by using light-reflecting setting powder.
10 Tips for Bridal Makeup at Home Related at Fashion Trends