American experts have designed such a purse which can be called as bad news for women because this bag will not let them to spend extra.
This purse is designed by a designer from New York and the Colmac Robotics of Ireland helped him to prepare its prototype. This beautiful purse, known as "iBag 2", is for women and its real specialty is that it gets lock whenever it comprehends that the user is intending to extravagance. For this purpose, it is equipped with an open source ardinoyuno microprocessor, vibration motors, timer, Bluetooth, RFID and LED lights.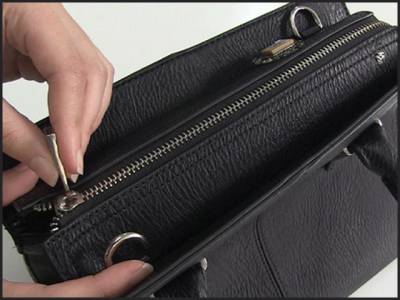 Before use, it can be programmed for the places and time where it becomes impossible for women to restrain fro shopping and they can spend extravagant. Whenever the woman reaches the place which is saved as 'extravagant' in the database of this purse, then the GPS system of purse finds this place and locks itself after which it becomes impossible to take money or credit card form the purse. This purse is especially helpful for salaried persons as it hinders women to spend extra I the last days of month.
In normal conditions, its LED blinks when the user woman takes the money from purse in order to signal her to refrain from extravagance. It recognizes its owner through RFID tracker and its alarm starts in case it is away from its owner so that she may not forget her. One battery pack is also an important part of this purse which not only provides necessary power to the purse but the user can also charge its smartphone or tablet by attaching USB with the purse.
A Wonder Purse That Stops Women From Extravagance Related at Fashion Trends